TO VIRTUAL STAGE OR NOT TO VIRTUAL STAGE, THAT IS THE REAL QUESTION?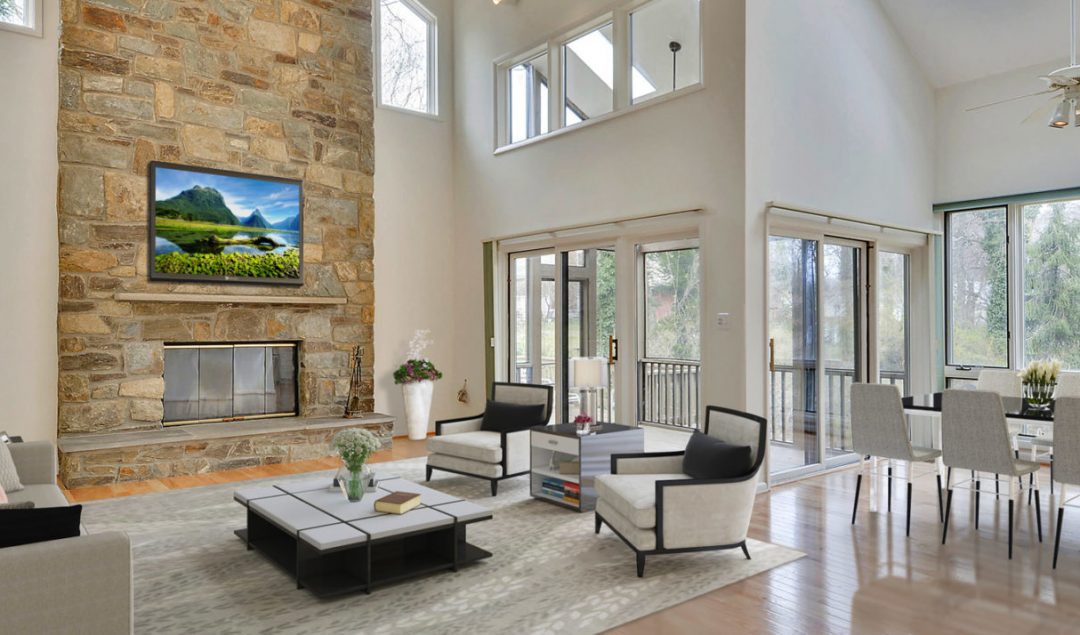 For sellers, staging home can be crucial.
Many buyers don't have the imagination to turn an empty space into a place they can call home.
The National Association of Realtors says staging makes it easier for buyers to visualize themselves in the home, buyers are more likely to visit a home that they see is staged online and saw an increase in dollar offers for staged homes.
Okay, we got it.
But staging ….can be incredibly costly.
So now, there's virtual staging, where a computer generates the furniture and a much more economical price.
We took this listing over from a different Realtor who received one offer that fell through.
Got the seller to remove the dated curtains, shelving and backyard furniture, cleaned the windows & added virtual staging and received 5 offers in 6 days on the market.
Here's an example of what a company did for us in a listing.
On the Arizona Multiple Listing Service, you have to put both the original picture without the furniture along with the virtually staged ones.
What do you think?
What do you think?
Does it look to fake and not give you a real idea of the space?
We posted this on Facebook keep in mind, the images are a lot smaller than the photos I posted in this blog) and got lots of responses:
"Great idea to include the furniture. It's easy to lose perspective with empty rooms"
"Diane, I think a good idea but also a little fake. Some one looking at them in their phone would be fine but on a computer gets a bit fake"
"If you didn't ask I wouldn't know,maybe a little but who cares,it gives you an idea what you can do with the place."
"I think it's a great idea. I actually didn't realize the pictures were altered until I read your post after I had already looked. If anything looks a little fake it's the curtains… but only because I was looking for it"
"Love that it gives perspective on space but a little cartoonish."
"It looks too clean. I lived in. But I like looking at furnished rooms rather than empty. I like it."
"I don't care that it looks fake. It makes me imagine how the space would look and then I could compare my furniture to see if it would fit
"As long as I could see both pics…all good. I like the addition."
"Personally, I think staging is a waste of time and money. Let the buyers use their imagination. You're just going to have people say: "I would have done it this way…"
"I sincerely hate it. I don't trust it's a true representation of what may fit in the space. I would much prefer real staging."
"it's been a trend for a long time to place breakfast trays on the bed and then a throw nearby, but you know what? Who cares? As long as there's a dresser in the bedrooms (now THAT's a trick to give the illusion of space), I think it gives someone ideas of what to do with the place. I like the wine bottle and glasses in that photo."
"I've seen listings with the "real" picture of the vacant room followed by the virtually staged picture and I like it."
"I like it – it does look fake but it gets imagination going on what u could do in the space. Some people just can't visualize – this could help"
"I agree with Erin. People need to see what it could look like. As long as the virtual staging looks better than the real thing"
"Helps in understanding room capacity and space, however the scaling would have to be 100 accurate… Otherwise, it's gonna cause more issues than it's worth."
So there you have it, It's a mixed bag of nuts.
In my professional opinion as long as you have both staged and not staged pictures, it helps tremendously for those that can't afford staging.
In our listings, we also have a stager come in and use your own furniture to stage and move things around to make your home ready to list. That doesn't cost anything as we take care of the cost as part of our marketing your home.
If you'd like to have That Real Estate list your home, you can contact us or call Diane Brennan at 602.620.2277.