Diane Brennan – Your Voice in Real Estate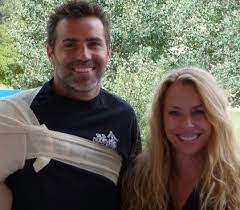 Contact 602-620-2277
cantrememberheremail@gmail.com
Diane@ThatRealEstateShow.Com
Diane used this picture to show friends and family her new boyfriend….until the restraining order came.
We jest! It was a huge misunderstanding…
Growing up in rural Alberta, Canada, near Edmonton, Diane was grateful for her home, but after digging through enough snow and suffering through enough -40 temperatures, she thought it might be a better place to visit.
Off she set out for new adventures in Arizona.
Diane has spent over 30 years in radio broadcasting in both Canada and the U.S including an 8 year stint at KTAR where she was a news anchor and co-host working alongside talk show hosts, Darrell Ankarlo, Preston Westmoreland, Ted Simons, David Leibowitz and others.  She has always been an investor in real estate and spent much of her free time following market trends and dragging friends to open houses.  Many have told her that isn't normal.  Who knew?
She decided to turn her passion into a full time career in 2010 and is now combining her two loves: Real Estate & Radio.  Diane hangs her license at Coldwell Banker Realty  and she now created and hosts Own It Girl – That Real Estate Show for Women! New episodes are published every Wednesday and you can find them here or at your favorite podcast destinations, including Apple Podcasts, Google Podcasts, Spotify, Stitcher, and more! Diane created  That Real EstateShow on KTAR Radio in 2011 when no one in the Valley knew what their options were. She wanted to create a trusted and reliable source for people to get educated and make the best decision for themselves and their family.
Diane has helped hundreds of families. She provides excellent customer service to her clients while finding them great homes or selling their great homes at the best possible price.  Diane's number one priority is protecting her clients in a transaction. Her extra education and training has earned her the designations of Certified Military Residential Specialist, Master Certified Negotiations Expert, Certified Luxury Home Marketing Specialist, and Certified Scottsdale Real Estate Specialist.
Without being prompted by a cash reward, her clients will tell you that she knows her stuff and can be quite enjoyable to be around for long periods of time. Her driving…not so much.
Diane would love to help you in your next real estate transaction.